Here you will find some handy information and videos. We are constantly building these resources so please contact us online or by email if you need help with a key issue.
Where to find your VIN
VIN stands for Vehicle Identification Number. It is a 17-digit alphanumeric code that is unique to your vehicle. Each vehicle is given its own VIN during manufacturing. The VIN enables identification of the vehicle in case of manufacturing faults or recalls. For automotive locksmiths, the VIN allows us to identify your vehicle in fine detail so we can understand what style key/remote you have, the type of ECU and transponder chip needed and the procedure required to program a new key to your car.
If your vehicle is registered, we can find your VIN using your Registration number (on your Number Plate). If the car is not registered, or rego has expired, we will need your VIN to identify your vehicle (and therefore key).
There are several places you can find your VIN. The easiest place, if your car has been registered in the past, is an old Registration Certificate: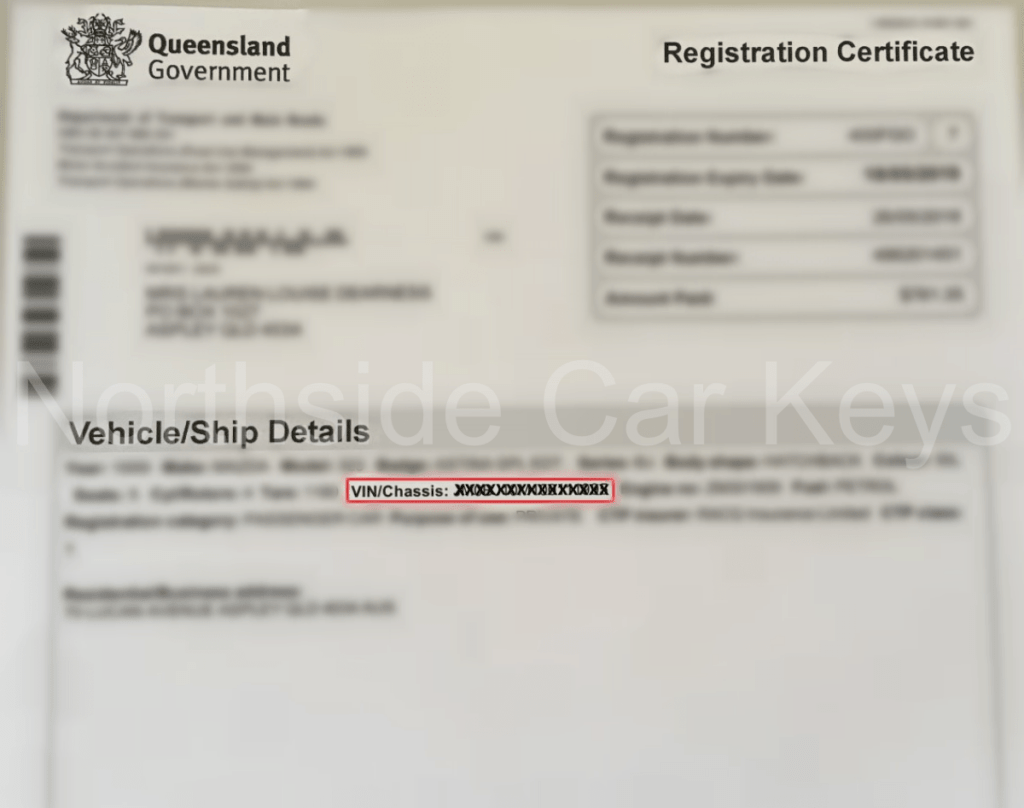 The next easiest place to find the VIN is a sticker or plate somewhere on your car. The stickers are often inside one of the front door frames:
Or on a metal plate under the bonnet:
Some Makes such as VW and Audi have their sticker located in the spare tyre compartment:
Most Holden vehicles have the VIN stamped on a metal plate on the dashboard, on the passenger side, visible from the outside of the car looking through the front windscreen.
Other places the VIN can be found are:-
Your Owners Manual – in the Service Booklet
Some Insurance Certificates
Some Workshop Service receipts (eg. from the Dealership or mechanic)
Purchase receipt from dealership